This event has already occurred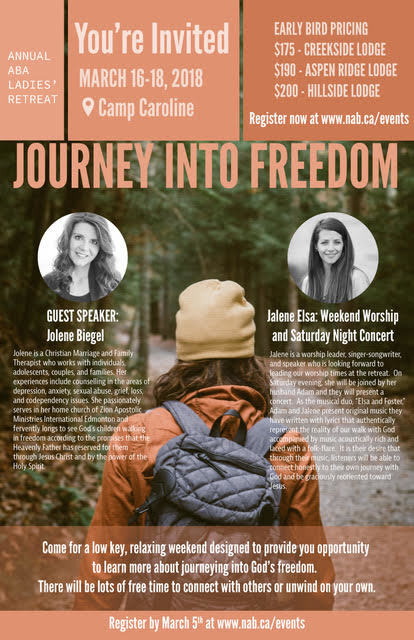 Save to your Calendar
JOURNEY INTO FREEDOM
Come for a low key, relaxing weekend designed to provide you opportunity to learn more about journeying into God's freedom. There will be lots of free time to connect with others or unwind on your own.
Guest Speaker: Jolene Biegel,
Jolene is a Christian Marriage and Family Therapist who longs to see God's children walking in freedom according to the promises that the Heavenly Father has reserved for them through Jesus Christ and by the power of the Holy Spirit.
Weekend Worship & Saturday Concert by Jalene Elsa
Jalene is a worship leader, singer-songwriter, and speaker who is looking forward to leading our worship times at the retreat. On Saturday evening, she will be joined by her husband Adam and they will present a concert. As the musical duo, Elsa & Foster
Early Bird Prices range from $175 - $200.
EARLY BIRD ENDS MARCH 1st. After early bird, prices are $20 more per ticket.
Registration begins at 6:00pm, program at 7:00pm